I found this poem I wrote while living in Sylva, NC, and participating in City Lights Bookstore's Writer's Group. This poem was written over 5 years ago.
Point

What is the point?
Why am I doing this?
The questions come as always before,
But now…
There's a long empty blank of not knowing.

The sharp memory of my father's death,
pins me to my mortality.
Getting from point A to point B
Takes so much effort that at times I think
Why bother?

Make a point of staying still
Long enough to be remembered
As a point in time….
That can never be truly pinpointed,
That may never have been a point at all.
~JRW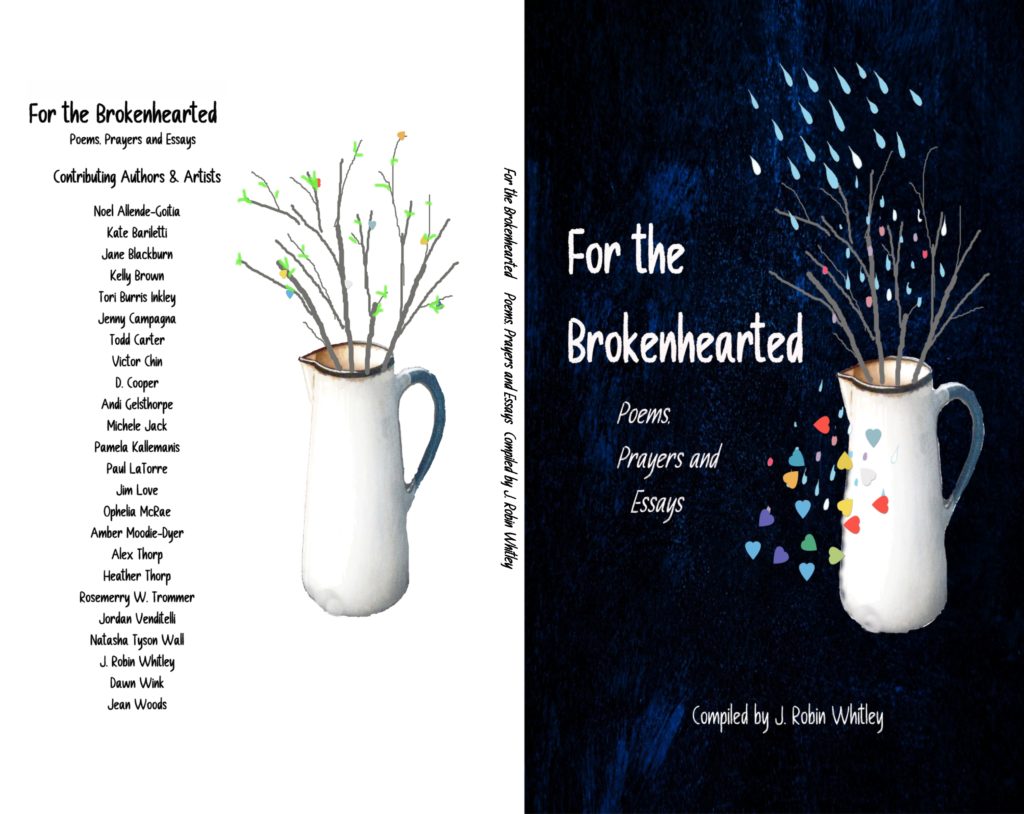 When I read that poem this morning, I was glad to have found it today because, on September 4, 2022 a new poetry collection was released by Napping Dog Press. I have a few poems included in the book but the thing that makes me happiest is the joy I had in compiling the collection and working with so many poets worldwide. Finding this older poem this morning was serendipitous for two reasons. First, I totally forgot that I had written it on a google note. Reading it again gave me hope and healing because, since the writing, it's come to my attention that LIVING is the point. The second reason finding this poem today is good is it is an example of the poems that will are featured in this collection. The above poem was not at my fingertips when we were compiling the collection so it is not included.
When I first started the collection, it was an attempt to find my way through grief and loss on top of a broken heart. Wisdom pointed out to me that I was not the only one in the world with a broken heart. All human beings have suffered a broken heart in the period of a lifetime. As a result, I began to reach out to other poets I love who might contribute to the collection. I was clear that this book is more of a project than anything. I think I even warned them that I was the compiler and my only other helper was Birdie, my dog. When I shared my vision, they contributed wholeheartedly. I was humbled and gladdened.
As the collection began to take shape, it became clear that it was too heavy-hearted. Though we must grieve our broken hearts and losses, if we get stuck there, that destroys our joy and can even destroy our lives. I went back to these poets and asked for poems that also talked about how it is to get through a broken heart. At first, the collection was only poems of poets who I have become friends throughout the years. Then, I read other's poems posted by friends (Rosemerry Wahtola Trommer), on websites, and even an essayist found on TWITTER (Dawn Wink). I got brave and asked these more well-published if they might also contribute a certain poem. My second cousin posted one written by her dad, Noel Allende-Goita who graciously contributed his poem in English and Spanish. Pamela Kallemanis suggested the poetry of one of her friends who she knew would fit into the vision and we gained another NYC poet, Paul LaTorre. Kate Barletti became a friend of mine via a Facebook group and offered some of her poems from New Zealand. We have queer, straight, religious, pagan, who have all created works that I think will touch your heart or your friends' hearts. These poets have healed my heart in ways I could not have imagined when I asked for their contributions.
Michele Jack is a master of all trades and lol, I guess a jack of all trades too! In this instance, however, she has been the wonderful graphic artist who created our beautiful cover. I sent an idea and she make it come to life! Michele is also the person who talked me off of IT cliffs when some format issue freaked me out or when uploads to the printer did not work. She is a gem, a trusted friend, and a long-time Soul Sister of mine.
When the compiling of writing was done, and the cover being polished, it felt there was one thing the book needed but at first, I couldn't quite put my finger on it. Then one morning, I saw one of Andi Gelsthorpe's posts of her art on her Facebook page. That was the last gem needed for this book to be completed. Andi graciously offered three of her prints to be added between the last three sections as the book moves towards a more healing tone. Hope we have more good news to share about Andi's work later because she creates beautiful prints.
This kind of announcement, kind of thank you, would not be complete without thanking the editors who helped me make this book beautiful, legible and
one that won't cause English teacher to pull their hair out. First, Sis Kinney was my first editor. She is the one who saw the draft collection when all was a jumble and mess. Through her experience from previous editing jobs, she caught things I missed often because I was so focused on the poem or essay. Through Sis's work (at no cost to me), the book had form and shape, and direction before sending it to the final editor, Mary Neal Meador. Mary Neal's name was mentioned to me by my partner, Heather. She told me I MUST work with Mary Neal at Appalachian State University's (ASU) Writing Center. Heather is an amazing writer and boy and I'm glad I took that advice. Mary Neal had worked with a publisher of poetry in her work history and through her wise guidance, this book has been loved, cared for, and polished. If any errors remain in this book, they are all mine because Sis and Mary Neal worked hard with me to assure that we were putting out a professional book.
Last, but not least, I want to thank Heather for believing in me. I first met Heather because I was looking for a writing friend upon my move to Boone. We've been friends for five years, but partners for only 1 of those years. It's been the most beautiful poem I've lived yet. She has listened to my frustrations over getting the book organized, websites built, authors updated, and another good copy editor of the proofs. She has given me the time and space to devote my work to this project and she also loves this project as if it was her own. She has even volunteered to help me pack the orders! She knows my other helper, Birdie always naps on the job. I'm thankful for Birdie too because she was/is my faithful companion and champion whether I'm writing or not. You also might recognize her in our project's logo below.