The muses have been busy in my life. In addition to music, I've been busy writing. There are sketches too, but nothing I'm willing to share. For a while, it was overwhelming how fast things were coming to me. Trying to keep up with the creative flow while also trying to promote my new novel made it hard to decide where to focus for 2019.
After some time considering the next step in my writing journey, I've decided that I will be working on a book about dogs. The title is nothing fancy right now and so I'm not going to type it out. It may sound disappointing if you know its title is so um….not catchy.
Here is something really exciting I want you to know, however. The new book cover is going to be created by one of my favorite photographers, Pat Thomas. I met Pat while living in Sylva. Her wife bought City Lights Cafe and together they are making Sylva a fun place to be. While Bern keeps busy feeding people, Pat keeps busy encouraging dog owners and helping people find lost pets. She also helps everyone celebrate pets by sharing her artwork of pet photography. The only thing she asks is for the owners to make donations to her non-profit, Advocates for Animals in Jackson County.
Pat has started a new non-profit organization in Sylva that works to help keep pets and owners together. You can read more about her and her work in her bio. I just wanted to share the good news about her being willing to work with me. I can't wait to show you the new book. You're gonna love it!
Pat Thomas is passionate about all types of photography, but her love for animals motivated her to focus on pet photography.  She began photographing pets through her involvement in animal rescue in Atlanta, GA, 10+ years ago and continues to contribute her photography talents here in Western North Carolina.
Pat has been supportive of many rescue organizations and has established an email communication network for pet placement, lost and found animals, upcoming pet events, etc.  Extremely passionate about animals and animal welfare Pat enjoys donating her time and photography to the local rescue community. She was formerly on the board for PAWS Bryson City and has volunteered for ARF, (Jackson County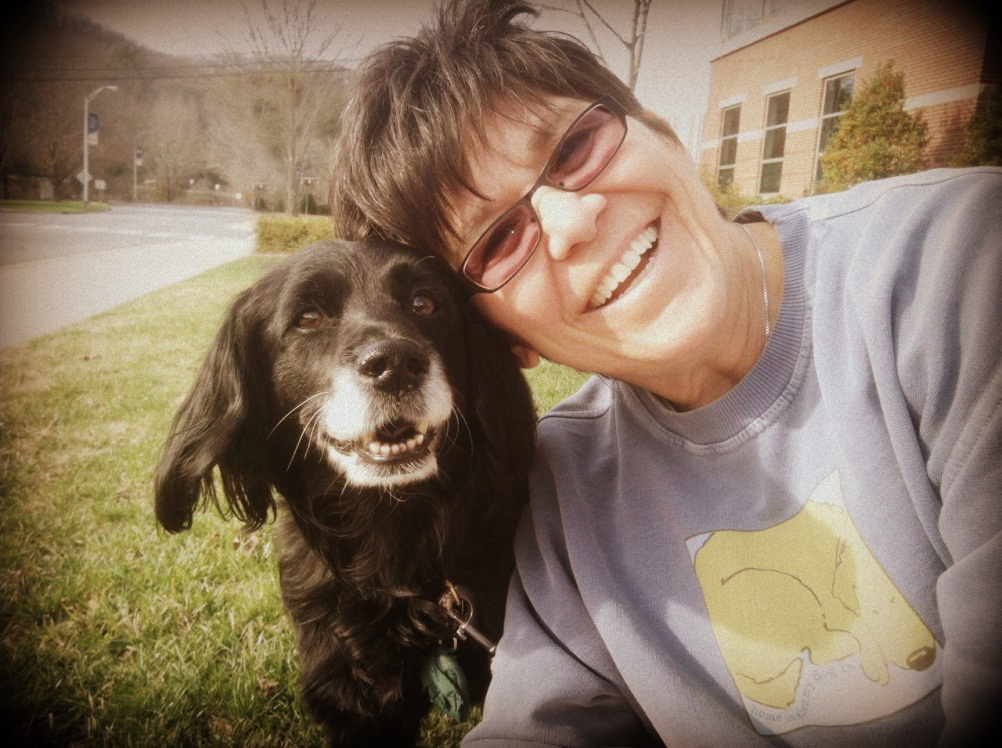 Humane Society). She has also donated her time to photograph the dogs and cats at our Jackson County Animal Shelter.  In addition, Pat donates her time to photograph local pet events, such as the Bark in the Park event in Sylva every year. Several times a year, Pat schedules photo shoots at different community businesses, where she takes special holiday and-or themed photos, including Valentines, Easter, summer beach photos, Halloween photos, and of course, the ever-popular holiday photos.  From these proceeds, she always donates a generous percentage of her proceeds to a local rescue organization, another way she supports the rescue community.
In 2017, Pat recognized the increase in owner surrenders and abandoned animals, and decided to establish a non-profit group that would focus on pet retention, and Advocates for Animals in Jackson County was founded.  Keeping pets IN the home has been the objective of this organization, by helping with pet food, unexpected vet bills, training, and fencing.  AAJC has also helped with temporary boarding for domestic violence victims, and people that are temporarily homeless.
Pat enjoys doing private photo shoots on location, often at the client's home, where the pets are most comfortable.  If requested, she is happy to arrange the shoot at a local park or another location.  Many people request posed shots, however, she has found some of her best photos have been the candid ones, where pets are just being themselves, and showing the personality their owners have come to love.
Check out Pat's work on her at her Smug Mug site at http://atlk9luvr.smugmug.com/.  You can contact her at 404-993-1985, or email pat@photophetish.com.
For more information on Advocates for Animals in Jackson County, visit the website at www.advocatesforanimalsjc.org, or their Facebook page at https://www.facebook.com/AAJCNC/.