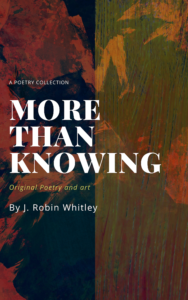 It's amazing how fast this year has flown. There have been beautiful moments, but also moments where you wonder what happened. I'm not alone in this either. Even some of the younger people I know are already talking about how time is flying. Of course, only us poets continue to talk of poetry.
Earlier this year, I had hoped to re-issue my poetry collection, More Than Knowing. It is a good collection. Life intervened to prevent me from retyping the entire book. I lost the manuscript or perhaps I thought I would never need it again. So there's also been a bit of laziness in not wanting to have to write it all out again. I tend to write poetry with a pen and paper and then later type it. Since I had already done the hard work for the book issued in 2014, had hoped it would be easier to get this one released in a newer format.
Not so. The additional challenge is that though I type quickly, poetry is filled with emotion. More Than Knowing was written in the happiest time of my life. Going back through the book reminds me of the happiness that I get to keep. However, it also reminds me of the happiness I lost. Fortunately, much of the poetry is about nature and could also fit in here at Beech Mountain. That is the reason I am determined to finish this by the year's end. Something good has to come out of 2018. Might as well be my book of poetry praising nature and love.
I always hope my poetry is descriptive enough that an actual photo is not needed. That you can create in your own mind a place that moves you. Yet, as I relive this poetry, I find that I want to share some of the photos I took with the poetry. I think you're going to like this second edition even better. Take a listen to one of the poems I recorded for you today. It is a poem I mean as much now as I did when I wrote it. For each poem I read again, the message is only richer and deeper. I hope you will enjoy it again.