"…even with imperfect masters, the canine soul is pure, loyal, and dependable."
― Jon Katz,   The Story of Rose: A Man and His Dog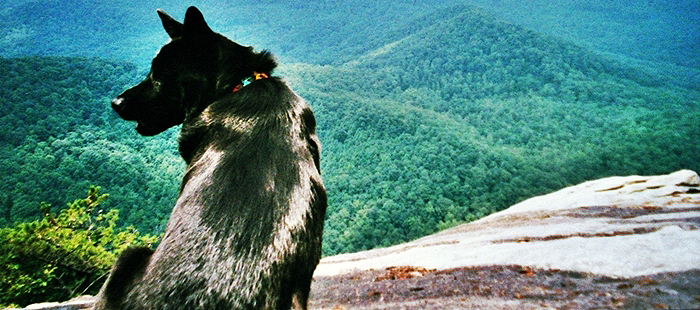 Bearing the unbearable is something we all have to do in life. Grief happens. Death happens. Nothing lasts forever in this world (except maybe plastic). My dog, Bear, was an amazing dog. She was part chow and part blue heeler, and she got the best attributes of both breeds. These are the first sentences I've typed about her in past tense. You see, last week, I had to put my best dog down. She was 15.
She never liked having her picture taken, but I kept trying. It was harder when she was young to see her face. She was black everywhere but on her toes. There was a bit of white with speckles (from the blue heeler) on her toes and a white mark on her chest. Sadly, I don't have any good photos of her until she was about five. Even then, she was so black that in most of the photos you can't see her eyes. She had soulful brown eyes. Most of the time though, she turned her head when I took her photo. That means there are a lot of photos with the back of her head.
I do have a few where she posed for a treat
… or a present.
Bear really loved presents and would open them herself. Yes, sometimes it was because it was about a treat or a toy. It was also about quantity. She was always miffed when the humans got more presents than the dog. It was funny that she counted presents, "1, 2, 3, more than the dog."
She was smart and another dog lover told me a dog as smart as Bear could count up to 3. As the years passed after his comment I noticed that she did count. When family visits here in the mountains, we go out to eat. Upon our return, Bear always counted the people, "1, 2, 3, the rest of the family." How do I know she counted? She would use her nose as a counter touching the leg of the first three people (usually me, my wife, and mother-in-law). After three, she was okay and would go back into the living room.
Bear knew everything about me that I didn't want anyone else to know…not even God. Of course, God knows, I believe that is why Bear was sent to me. Bear was sent to me because I needed to know that some creature loved me with all of my faults. First it was Bear, then my wife. After learning to accept their love, I began to see that I have been loved all along. Who knows why I could not see love from others until Bear, then DJ? All that matters to me is that while my wife is my Holy Woman, Bear was my angel.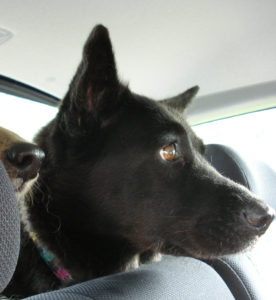 Bear was my lead dog. Other dogs knew that too. There were several times a male dog tried to dominate her. She would have none of it. She didn't fight back, but she didn't let any other creature dominate her. There were times when she was a typical Taurus. She was born in May and I put her birthday as May 5th because 5 is my favorite number and Bear is my favorite dog. Well, was my favorite. It's hard to move my love for this dog into the past tense.
We have, no, we had 15 years together. I have never had a dog that lived that long before.  I've grieved pets before, beloved cats and dogs. The thing is, no one, no pet I ever knew wanted to be as good as Bear. I think her love helped me be ready to trust my wife when I first met her. Bear was my guard, my guide. If Bear didn't like a person, you knew to be wary yourself. When she met DJ the first time, she got out of the car and promptly fell at DJ's feet. She was usually too dignified for such displays of love. My angel guide was telling me that DJ was the one I had looked for all of my life.
I wish I could say that love has saved the day. In a way, it has…saved all my days in fact. I am a better person because of love. My life is better because of love. Yet, it is not perfect and is as fraught with pain as any life. Well, maybe less fraught now that I live in love. The fact is, this dog was larger than life for me. My big dog now fits into a box I can carry.  Ashes to Ashes, dust to dust happens to our beloved pets too.
Grief happens. I look on Facebook and see all the battles that my friends and family face.  It's the one change that we can count on; a life that seems large disappears. Even though we may believe in an afterlife, loss is hard. No one ever promised us that life would be easy or that there would be no hurt. All I know is that my heart aches at the loss of this beloved creature named Bear. I don't regret loving this dog one bit. For every moment of sadness I feel, there are thousands more of love and joy. My only hope is that one day I might be half as good as this dog. If I can be, then another person will feel loved. Rest in peace my sweet dog. Rest in peace.
"The relationship between a dog and a human is always complicated. The two know each other in a way nobody else quite understands, a connection shrouded in personal history, temperament, experience, instinct, and love."

― Jon Katz,  from his book A Dog Year: Twelve Months, Four Dogs, and Me
_________________________________________________________
If you or someone in your family is having challenges with grief, there are resources available to help deal with loss. In Jackson County we have a great Hospice group to deal with loss of humans. Hospice in Sylva can be reached by calling Westcare Health Center.
For a more personal approach to grief, I highly recommend Kristin Moore at Keystone Behavioral Health. I first started going to Kristin to deal with the loss of my dad. She has helped me through that loss and when I talked with her about losing Bear and all that means for me, she is just as helpful in dealing with the grief of a beloved pet. You can get through your grief.