Monday Morning Montage COVID-19 Rambling
April 27, 2020
I start writing for the new week, the question arises, "is this us"? Looking for a soundtrack to the week, I listen to NPR until the news has me so angry, I can't think straight. The Navajo Nation is being hard hit, the African American population, all who live in poverty are dying fast and where are those who profess to follow this ancient leader named, Jesus? I'm not excluding myself from this question either. Right now, the truth is a hard one. The people of color would say that yes, this IS US. What are we going to do about it?
A Gillian Welch song comes up in my playlist. Though it's called "Miss Ohio"[1], these lyrics seem to speak to the apathy we are seeing in our people of faith:
I know all about it, so you don't have to shout it
I'm gonna straighten it out somehow
Yeah I want to do right but not right now….
My question is not about staying home or working but about caring for people in need and right NOW. Right NOW, we have an entire country in need. Yes, people want to get back to work who work, but there are people who have wanted to work all along. There are people who have suffered all along. The world has come and put us ALL on the same level, vulnerable and afraid. The sociologist, Brené Brown[2], states, "Courage is borne out of vulnerability, not strength."[3] Yet, being so vulnerable and frightened often causes one to choose to be reactionary instead of pro-actionary, as in proactive. In those same times of fear, we often revert to being self-centered. Fear can cause us to be focused on "what's going to happen to me", that we forget the most important question about the US in the world.
Right now, it is interesting to think that the abbreviation for the United States is "US". The abbreviation has always been that way, but with the changes in grammar, removing the periods in abbreviations (from U.S. to US) it clarifies. More than ever before, we are beginning to see the importance of being an "us", and in particular, we can now begin to think of what it means to be UNITED instead of divided. Our country is abbreviated as the US and not DS.
There is nothing wrong with being vulnerable or afraid. Right now, we have reason to be afraid because the Corona Virus is not contained within our country at this writing. Our country is being divided right at a time when unity is vital. The line from Welch's song sings as though she is reciting a litany response to my complaint:
Yeah, you want to do right but not right now.
Though there is an argument about who stated the following quote, we keep using it as an important reminder of what it means to be good people:"All tyranny needs to gain a foothold is for people of good conscience to remain silent."[4]
This quote speaks to me on several levels. It matters not who said it as much as it speaks an enormous truth. Regardless if one is a person of faith, this calls to each person to stand up against the wrongs that are occurring in our country. However, as a person of faith, it is more important to stand up for those in need. We have a world of need right now and it is hard to discern where to focus. Yes, we are called to care for our personal body as a gift, our family, friends, neighbors. We are all in this together, where does one begin to speak up? When is it time to speak up on behalf of the other?
Since the medical professionals right now are the ones who will safe our lives should we be infected with this disease, let's use part of their Hippocratic oath that basically states, Do No Harm, but more specifically, I WILL NOT PLAY GOD.
What does it mean for me to "DO NO HARM"? Hey, I'm staying inside because my state is still under stay at home orders for quarantine. I'm a homebody anyway, right, so this order has actually helped me get through April without any major asthma attacks. I still have three days to go, but this is the first time in over 20 years that I've been well from the last week of March to the first week in May.
To think that I am doing right by those around me by staying home is important. However, more must be done. As a disabled person, my ability to march, protest, to be a volunteer is very limited. Especially during COVID since my asthma puts me at high-risk. What does it mean for me to care for my neighbor, the poor, the underprivileged? It means a lot of things really. But my focus today is that I'm standing up to say, THIS IS WRONG! The Way our government has mishandled the response to this pandemic is ultimately wrong. If we continue to support how this is being handled (or rather, not handled), then we are contributing to evil.
I've been fighting with myself, praying, researching, praying, reading the scriptures, and books from my faith. Now is the time for me to stand up and say something. NOW is the time for us all, people of faith or not, all of US need to stand up and begin to live lives and speak lives of do no harm. This "do no harm" applies to all of us as human beings, living creatures, our earth, water, sky. Have you seen the article about how the earth is beginning to clean itself now that we have stayed home? That in itself is a tremendous message that WE ARE THE ONES RESPONSIBLE for what is happening in our world.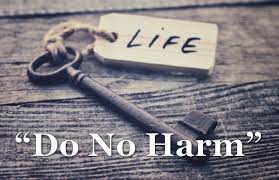 WE MUST STAND UP NOW to the things that are going wrong in our country. We gain courage by thoughtful prayer, meditation, conversations with the wise who have kept us on a path of good before. Sometimes, especially in times of fear, people are wrong. Compare what the wise person says to this maxim DO NO HARM.
"Meditation and other spiritual disciplines are largely meant to give us the toughness required to take hold of our lives. Without this toughness, despite the better goals we may cherish in our hearts, we will not be able to take the road that leads where we want to go." Eknath Easwaran
Because of my faith tradition (meditation is important in most faith traditions), it is important for me to pray before I speak, act, or make life choices. In the Christian tradition, a question is often asked of followers about choosing now who to follow. The Jesus who is exemplified in scripture and history is a man who not only lived a life of "do no harm", that same man sought to heal and reach out to the outcasts of his day. What does it mean for us to follow THAT man?
What does it mean to have the courage to stand up against what is going wrong for you? For me, it means writing, calling, praying, calling, painting, praying, singing (which is also prayer), and being in continuous conversation and meditation with those who lead me on the right paths. We must start NOW why? Because our world is in chaos, but also, if not now, tell me when?
_____________________________
NOTES:
[1] Welch, Gillian Howard, and David Rawlings. "Gillian Welch – Look At Miss Ohio Lyrics." MusiXmatch, 2003, www.musixmatch.com/lyrics/Gillian-Welch/Look-At-Miss-Ohio.
[2] Brené Brown is a research professor at the University of Houston, where she holds the Huffington Foundation-Brené Brown Endowed Chair at the Graduate College of Social Work. Her books include The Gifts of Imperfection, Braving the Wilderness, and, most recently, Dare to Lead.
[3] Brown, Brené. "Brené Brown – The Courage to Be Vulnerable." The On Being Project, The On Being Project, 29 Jan. 2015, onbeing.org/programs/brene-brown-the-courage-to-be-vulnerable-jan2015/.
[4] Most often attributed to Edmund Burke openculture.com/2016/03/edmund-burkeon-in-action